WARNING: Fragrance-Free and Unscented are NOT the same. Don't let the manufacturer trick you into thinking they are. Unscented products have chemicals that mask the odors, your skin might know the difference and still have an adverse reaction.
---
Beauty & Skin
Arm & Hammer: Ultramax Solid AntiPerspirant Deodorant, Unscented – While this says unscented in the title it actually specifies fragrance-free in the description. Hubby uses this one. (Amazon)
Avant Fragrance-free Hand Sanitizer (Amazon)
Aveeno: has several fragrance-free products. My favorite one is the Skin Relief Body Wash, it has colloidal oatmeal in it which is excellent for dry, itchy skin. Hubby and I use the Therapeutic Shave Gel. (Amazon)
Banana Boat: Protect & Hydrate Sunscreen – This is my go-to for sunscreen regardless of time of year. I apply this on my neck, decollete, and arms. (Amazon)
California Baby: Has their own fragrance-free line called Super Sensitive. You don't have to be a baby to use it, but this brand is very pricey! (Amazon)
CeraVe: Great fragrance-free options. I use the Hydrating and Foaming cleansers as well as the moisturizing cream. Higher price tags for this than Cetaphil but that was what my Dermatologist recommended while I was on Accutane. (Amazon)
Cetaphil: I've used these in the past but since I have so many CeraVe products right now I won't repurchase til they are gone. Cetaphil is significantly more cost efficient! (Amazon)
Dermalogica: is another skincare line that is entirely ARTIFICIAL fragrance-free. You may find products that have smells, like precleanse, but they are all natural. My favorite product is the Daily Microfoliant. (Amazon)
Dove: Advanced Care Sensitive Antiperspirant – A great product I've used for I don't know how long. (Amazon)
EltaMD: UV Pure Broad-Spectrum SPF 47 – My dermatologist recommended this because of my fragrance sensitivity and because my skin is super reactive and sensitive.
First Aid Beauty: is another skincare line that is entirely ARTIFICIAL fragrance-free. You may find products that have smells but they are all natural. (Amazon)
Gold Bond Ultimate: I loved this product when my eczema broke out all over both hands. It really helped the itch and helped heal the skin enough to repair as well. I won't go another winter without this product. (Amazon)
Healthy HooHoo: This is excellent for maintaining your PH in your feminine area, but expect to part with $12+ per 4 oz. It's a bit too pricey for me personally but if you battle issues with consistent yeast infections this may be the feminine cleanser for you. (Amazon)
O'Keffe's Working Hands: My brother recommended this because it was fragrance-free and because as a nurse he's constantly washing his hands. He was referred to this by a coworker and now this is Hubby's Holy Grail hand lotion. He REFUSES to use anything else. (Amazon)
Paula's Choice: products are entirely fragrance-free!
Simple Skincare: Another all fragrance-free skincare line. These are very affordable as they are drugstore items. I love their micellar water! (Amazon)
---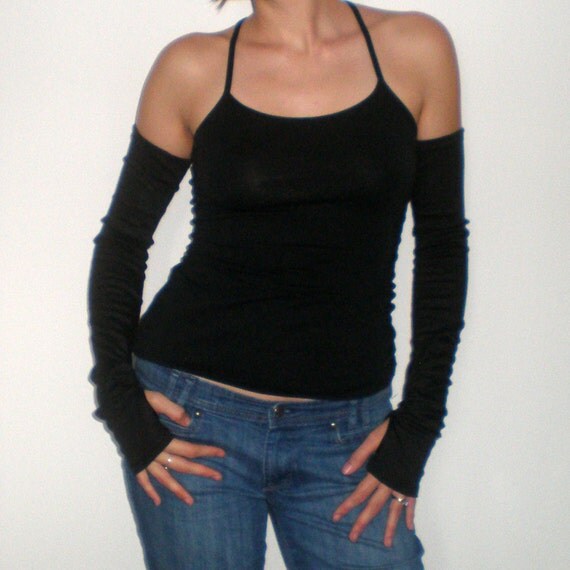 So this is about skin… Since I have contact dermatitis, remember I mentioned the rash I get when I come into contact with fragrance? Well, I purchased these awesome arm warmers, I got them from EitanyaDesigns on Etsy.
---
Household Products
all free clear — We've used the liquid laundry detergent and dryer sheets for over ten years. The liquid detergent is even sold in select Costco locations in bulk. Hubby prefers to use the smaller bottles because they have nicer drip slots, so we'll pour out some of the large bottles into the smaller ones.
Better Life – I found this product by watching Shark Tank! Now this brand has fragrance-free products (they list it as unscented) but it also specifies on the nicer smelling ones it does specify the scents are all-natural. (Amazon)
Bounce – Free & Gentle Dryer Sheets (Amazon)
Downy – Free & Gentle Fabric Softener. Again something we've used for more than ten years now.
Dr. Bronners – Baby Mild Castile Soap (Amazon) You can use this as is or you can use it in my DIY Foaming Soap.
PUREayre – Another Shark Tank thing I found super interesting. This can help you deodorize your home "Without the hazards of chemical products and artificial fragrances." They have a variety of different products for Home, Baby, Pets, Dogs, and Marine. (Amazon)
Seventh Generation – Has a huge list of different fragrance-free products including all-purpose cleaner, baby wipes, chlorine free bleach, diapers,  dish liquid, glass & surface cleaner, dishwasher gel & powder, fabric softener, laundry detergent, rinse aid, stain remover, and training pants. (Amazon)
---
Miscellaneous Products
Dog Shampoos & Conditioners
Earthbath – Oatmeal & Aloe Shampoo Fragrance-Free
Shampoo (Amazon) and Conditioner (Amazon)
Tenda Groom – Hypoallergenic Dog Shampoo (1 Gal Amazon)
---
Wet Ones – Sensitive Skin (Amazon) You can get the packets for travel or you can be like me and just get a tub to take with you. It's easy to take them in a small Ziploc bag, if for some reason they start to dry out you can easily add a touch of water to the bag or just get a spray bottle and voila it's all fixed. Same thing if you accidentally leave the tub open, just add a bit of water to the container and it'll hydrate itself.
System Jo – H2O Personal Lubricant (Amazon) and there is also their All-In-One Massage Glide (Amazon.) Their manufacturer website is very image intensive so it may take a minute to load, but they have great products that we love. We were actually referred to this line of products by a friend / couple who enjoy their products.
Moso Natural – This company offers air purifying bags that are rechargeable via the sun! Isn't that neat? They have small ones you can put in shoes or I use the 200g ones I bought from (Amazon) in a set of four. I have two in our closed trash can, it does a good job but closed trash cans get smelly really fast. We also have them in our bathrooms and fridge. I love that when the product 'expires' after 2 years you can open it up and put it in a garden or just on your grass.
---
Grab Green Home – Has a full list of items that are fragrance free. I've never used the site before, but as I type this out I am browsing the site.
---
This post includes contain affiliate links. Ordering a product through this link may result in a commission, which helps pay for the cost of running this site. All opinions are 100% my own. Read my full disclosure policy here.